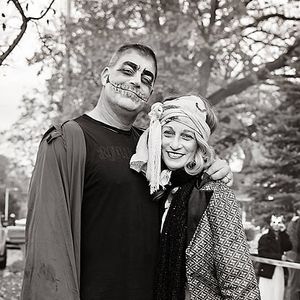 Jeff and Vicki McKone
Looking for a way to combine community service and holiday fright, Jeff and Vicki  began their annual  tradition that has become the Walk of Terror. 
From 2015-2021, the walk was transformed
from a single archway to a shocking maze of fears and frights
that make your hair stand on end!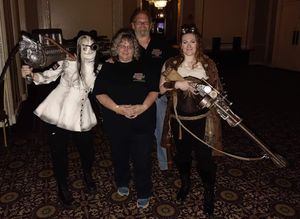 The Woods family was introduced to  the enjoyment of haunted attractions by close family member, Denis Howell.  He took them on their very first visit to a haunted attraction, the Huburtus House of Horrors in Hubertus, WI.  From that night forth, the Woods family were hooked on all things spooky, the love of Halloween & has spent 32 years in the industry. This is longer than both of their daughters, Jes & Nellie, have been on this Earth. 
Jeff (yes, you read that right. Another Jeff.) & Bridget Woods started an annual Halloween party for family & friends back in 1990 at a small local venue that held about 50 people & was about 100 square feet. The parties consisted of your typical party activities with food & beverages, old fashioned Halloween entertainment like bobbing for apples  for everyone who attended. This also included a small maze made of black plastic hung from the ceiling for the kids to hide in & scare their parents & friends. Their parties were a hit every year among the attendees & by 1993 they had to find a larger venue to accommodate their growing attendance numbers. 
That year they had found a venue that held about 200 people & was roughly 800 square feet & the parties continued to grow not only in attendance numbers but also in the amount of dedication to make the party as spooky as possible on a budget. The once small, black plastic maze turned into a larger walking trail designated by hay bales donated by a family member for anyone to participate in the haunted walk through. Moving forward, they reached maximum capacity for that building as well & started looking for an even bigger venue. 
In 2008 the Woods family found a fellow Halloween enthusiast in the Whitewater, WI area that had a spare pole barn & allowed them to utilize that space to create their biggest "haunted walkthrough" yet at about 1,000 square feet. This was the first year they decided to open their "walk through" to the public as a haunted attraction. Jeff with the help of friends & family was able to build unique & detailed scenes for each room of the house while Bridget was the master seamstress that created costumes for all that wanted to participate as well as any additional fabric details for the rooms. Jes & Nellie by this time were helping actors apply makeup to correlate with their assigned room for the night as well as acting in the attraction themselves. Everyone involved had a great time just for the love of Halloween. In 2009 a representative from Dr. Scary's Haunted House had come through the attraction & was impressed with what the Woods family was able to create on their own within their budgetary means. This representative set up a meeting for them to meet with the owner of Dr. Scary's, Steve Cline & from then on the Woods family has been in the haunted attraction industry as professionals. 
From 2010 to 2015 the Woods family had an integral role in the operation of Dr. Scary's Haunted House located at the Jellystone Campground in Fort Atkinson, WI. They all  found their own niches within the group & learned so much from others within the industry. Dr. Scary's was built entirely under circus tents & in 2015 the roof of the tents collapsed due to an unexpected snow storm in early November. This was devastating as this happened before the haunt was disassembled for the season. For the next two years, Dr. Scary's temporarily ceased operations to find a building to operate under to avoid this loss again in the future. During this time, Nellie & Bridget joined the Wisconsin Feargrounds team in Waukesha, WI while Jes & Jeff took a hiatus from working in an attraction & instead traveled across the state of Wisconsin and northern Illinois to see other attractions. 
By 2017 Dr. Scary's had found a building in the Delavan, WI area & had their largest attraction to date at about 12,000 square feet. The attraction became so large that a decision was made to split it into two separate attractions. During this time, Jes & Nellie were head of the makeup room & actor training. Jeff was head of set design and prop builder.  He was given the nickname "Goremaster Jeff". Bridget was the staff manager, floor plan designer & head seamstress. Dr. Scary's operated under this building for the 2017 & 2018 season. In 2019 the owner of Dr. Scary's decided to retire & move out of state. This left the Woods family without a haunted attraction to call home.  
In 2020 the Covid 19 pandemic began which left a lot of uncertainty for what was to come that season. Most haunted attractions were closed so they took another hiatus for the 2020 season. 
Last season, 2021 the Woods family was introduced to the McKone family & found the haunt home they were searching for & were able to rekindle their love of haunting & all things spooky. 
The Woods & McKone families are joining forces again with Nellie Woods as co- owner, since the 2022 season with much of the attraction being revamped & expanded! Don't miss the unveiling of The Vault.

New for 2022!   
From the creative minds of
Moxie2, LLC 
and 
Dr. Scary's Haunted Houses,
Coming for 2022... 
The Vault!
See you in your NIGHTMARES!
In 2021, The Walk of Terror   was voted #1 on Haunted Wisconsin  by you, our fans! 
THANK YOU!